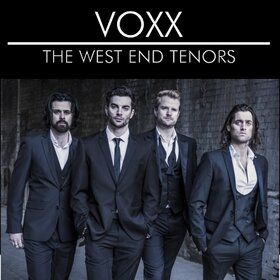 The West End Tenors
VOXX – The West End Tenors sind die Gesangssensation aus London. Lassen Sie sich die Gelegenheit nicht entgehen, die vier Herren live zu sehen, wenn sie 2020 auch einen Halt in Ihrer Stadt machen!

Talent, gutes Aussehen und Stimmen, die beim ersten gesungenen Ton Gänsehaut bereiten, das sind VOXX. Die vier Herren mit den durchdringenden Organen begeistern mit stimmgewaltigen Interpretationen klassischer Arien sowie bekannten Popsongs. 

Zunächst standen sie noch einzeln bei Les Miserables, Titanic oder Phantom der Oper auf der Bühne, nun sind sie vereint. Als virtuoses Tenor-Quartett singen VOXX Klassiker wie Ave Maria, Grenada oder Nessun Dorma. Dabei brillieren ihre Interpretationen mit neuartigen Harmonien und kreativen Musikarrangements, die in den Bann ziehen. Hinzu kommt noch die ungebrochene Leidenschaft der vier Herren zur Musik und die Freude, auf einer Bühne zu stehen. 

VOXX faszinieren mit hochkarätigem Gesang und energiegeladenen Choreographien. Machen Sie sich gefasst auf eine unterhaltsame Show der Superlative. Jetzt Tickets sichern!
Source: Reservix