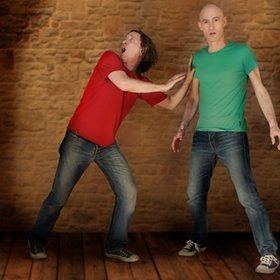 Sie präsentieren einen wahnsinnigen, rasanten Mix aus Schauspiel, Comedy, Marionettentheater, akrobatischen Showeinlagen, Pantomime und jeder Menge Unsinn: Das sind The Umbilical Brothers, die zwei wohl durchgeknalltesten Spaßvögel, die Australien zu bieten hat.

Der eine heißt Shane, wurde nach eigenen Angaben vor 12.000 Jahren auf dem fernen Planeten Zargoth geboren, von Weltraumkaninchen aufgezogen und kam nur durch einen dummen Zufall auf die Erde, wo er bis heute festsitzt. Der andere, David, hat eine nicht minder außergewöhnliche Biographie vorzuweisen. Lange Jahre versuchte er sich erfolglos als Arnold Schwarzenegger-Double, da er weder muskulös, noch nach Arnold Schwarzenegger aussieht. Jedoch kann er die 100 Meter in Weltrekord-Zeit sprinten – allerdings nur bergab und mit Rückenwind. Doch egal, ob man ihnen ihre Geschichten glaubt oder nicht; jede ihre Shows lebt von ihrer Kreativität und ihrem Talent, die Wirklichkeit einmal von einer ganz anderen Seite zu beleuchten.

Lachen, staunen, weinen und jubeln Sie - bei diesem verrückten Comedy-Duo bleibt kein Auge trocken. The Umbilical Brothers, zu Deutsch "die Nabelschnur-Brüder", sorgen für ein extraordinäres Show-Erlebnis, das es im ganzen Universum wohl nur einmal gibt.
Source: Reservix