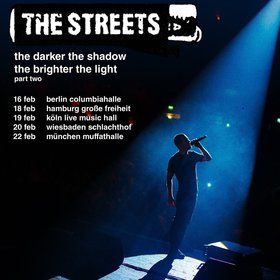 Direkt von den Straßen Englands behandelt die Hip-Hop Gruppe The Streets in ihren Songs die Themen, mit denen sich die junge Generation der Insel Tag für Tag auseinandersetzt. Mit Frontmann Mike Skinners großartiger Stimme und dem ruhigen, nachdenklichen Sound spricht The Streets ihnen aus der Seele und ermutigt sie weiter ihren Weg zu gehen.

Schon seit Mike als Teenager in seinem Zimmer sein eigenes Aufnahmestudio aufbaute und anfing, erste Texte zu schreiben, war es ihm wichtig, authentische Themen zu behandeln, die direkt aus dem Leben gegriffen sind. Er rappt in Cockney, dem traditionellen Dialekt der Arbeiterklasse und seine Texte haben einen unglaublichen emotionalen Tiefgang. Das hat sich bis heute nicht geändert. Der Durchbruch kam dann, als Skinners erste Single professionell produziert wurde und direkt in den nationalen Charts einschlug. Durch darauf folgende Alben ist The Streets zu einer festen Größe in der Musikszene avanciert, bis 2010 das Ende der Gruppe bekannt gegeben wurde. Doch jetzt hat das Warten ein Ende, The Streets sind wieder vereint.

Nun können wir uns endlich wieder auf neue Songs vom legendären Mike Skinner freuen und haben die Gelegenheit, ihn live zu erleben. Lass es dir nicht entgehen, wenn einer der besten Straßenrapper Englands erneut zum Mikrofon greift und mit seinen unglaublich tiefen, poetischen Texten die Geschichten der Straße zum Leben erweckt.
Source: Reservix