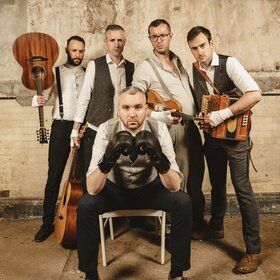 Keltischer Rock gepaart mit Folk Elementen, das sind The Rapparees. Die grüne Insel schickt uns ihr stattlichstes Exponat moderner irischer Volksmusik. Wenn die Musiker aus Belfast auf der Bühne stehen, kommt die Sonne hinter den grauen Regenwolken hervor. Wie die Dubliners und The Pogues machen The Rapparees ihre Heimatmusik zu einem mondänen Exportprodukt.

Die Band spielt so ziemlich alle Instrumente, die einen typisch irischen Sound ausmachen – darunter Banjo, Fiddle, Bodhrán, Bouzouki, Whistle und Gitarren. Für die rockige Note sorgen E-Bass und Schlagzeug. Die wahrscheinlich größte Stärke der Rapparees: Authentizität, denn die ist heutzutage selten. Als Joe McKeague, Gerard McNeill, Kevin Mawdsley, Conor McCaffrey und Eamon Rooney sich zu einer Band zusammenschlossen, waren sie Studenten in Belfast. Das war 2006 – zwei Jahre darauf folgt ihr Debütalbum "Clarity", 2010 dann der große Plattenvertrag bei Magnetic Music, Deutschlands erfolgreichster Agentur für keltische Kompositionen. Mittlerweile sind The Rapparees bei Fans der irischen Volksmusik in aller Munde.

Wie es bei Traditionen so üblich ist, kommen Schwermut und Lebensfreude hier im Doppelpack. The Rapparees nehmen das Liedgut der irischen Arbeiterklasse und machen es zu einer bühnenfertigen Performance. Nicht verpassen!
Source: Reservix