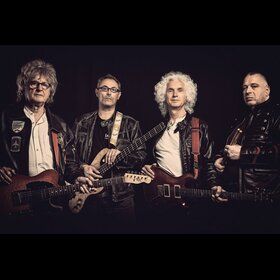 Nach 60 Jahren großartiger Bandgeschichte verlassen THE LORDS die Bühne, aber nicht ohne sich gebührend zu verabschieden. Genießen Sie einen unvergesslichen Abend und feiern Sie noch einmal gemeinsam mit den Rockern ihre größten Hits.

Freuen Sie sich auf beste Unterhaltung. Klaus-Peter "Leo" Lietz, "Jupp" Bauer, Phillippe "P.J.M." Seminara und Roger Schüller von THE LORDS sorgen für fulminante Konzerte, die bald der Vergangenheit angehören, aber wohl nie vergessen werden.

Gegründet 1959, wurden THE LORDS in den 1960er-Jahren die Beatband Nr. 1 in Deutschland und erfreuen sich auch heute noch großer Beliebtheit und einer treuen Fangemeinde. Natürlich hat sich die Besetzung der Band in den vergangenen sechzig Jahren das ein oder andere Mal geändert. Trotzdem trägt sie offiziell den Titel "Dienstälteste Rockband der Welt". In ihrer langen Karriere haben die Herren bis heute über 20 Alben veröffentlicht. Aber auch mit ihrem aktuellen Album "Now More Than Ever!" bewiesen sie erneut, dass sie immer noch zu Höhepunkten wie "Have a Drink On Me", "Poor Boy" und "Shakin´All Over" in der Lage sind.

Sichern Sie sich jetzt Ihr Ticket für THE LORDS und freuen Sie sich auf einen unvergesslichen Abend mit der Oldies- & Beatband sowie tollen Special Guests!
Source: Reservix