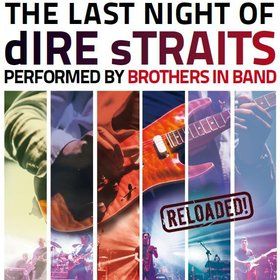 Die Dire Straits sind mehr als nur eine Band. Sie sind eine Legende der modernen Musikgeschichte aus den Jahren 1978 bis 1991. Die bROTHERS iN bAND ist ebenfalls mehr als nur eine Tribute-Band - eine Musical-Show auf so hohem Niveau das selbst Guy Fletcher (Keyborder der Dire Straits) sie mit dem Original verwechselte: "Sie spielten 'Why Aye Man' und ich muss sagen, dass ich dachte es wäre eine Aufnahme von uns."

" THE LAST NIGHT OF dIRE sTRAITS PERFORMED BY BROTHERS IN BAND" ist eine stilvoll- konzipierte Show, die das letzte Livekonzert in Zaragoza/Spanien von 1992 zurück auf die Bühne holt. Das Konzert welches zwar nicht die Welttournee "On Every Street Tour" der Dire Straits beendete, aber deren musikalische Karriere.

Mark Knopflers Spieltechnik war das Markenzeichen der Dire Straits und so ist es auch bei Oscar Rosende, dem Bandleader der bROTHERS iN bAND. Seine Stimme und ganz besonders seine Art Gitarre zu spielen, zeigt uns den Mark Knopfler aus den 80-igern und 90-igern Jahren. Dessen komponierte Melodien wurden Teil unseres Lebens und die Geschwindigkeit seiner Hände überraschte genauso wie seine Spielweise der Gitarre.

Genauso wichtig wie Oscar Rosende ist auch die spektakuläre Band, welche die Show unterstützt. Neun Musiker stehen auf der Bühne und erinnern an die Darbietung derDire Straits: rhythmische Gitarre, elektronischer Bass, zwei Keyboard-Spieler, Schlagzeuger, Saxophonisten und eine sehr spezielle Pedal-Steel-Gitarre.
Source: Reservix