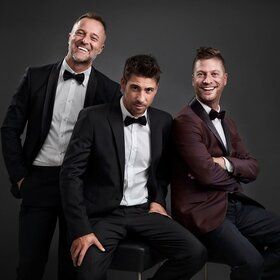 "Viva la vita" – es lebe das Leben. Treffender kann man die Musik von The Italien Tenors wohl nicht beschreiben. Mit ihren beeindruckenden Organen bringen die drei Tenöre jede Menge italienische Lebensfreude, viel Gefühl und Leidenschaft auf die Bühne. Ein vollendeter Genuss für die Ohren!

Unglaubliche Stimmgewalt ist aber nicht das einzige Merkmal, das die drei ausgebildeten Opernsänger Mirko Provini, Sabino Gaita und Evans Tonon zu wahren Hörgenüssen macht. The Italien Tenors wagen den Spagat zwischen Tradition und Moderne. Mühelos gelingt ihnen dabei, ihre musikalische Herkunft aus der Klassik mit einem Faible für italienische Popsongs zu verbinden. Die dabei entstehenden Interpretationen zeichnen das Debütalbum "That's Amore" sowie den vielgelobten Nachfolger "Viva la vita" aus.

Wem eine Reise nach Italien mit zu viel Aufwand verbunden ist, sollte stattdessen ein Konzert von The Italian Tenors besuchen. Hier erwartet Sie la dolce vita, verpackt in einem zauberhaften Klangerlebnis, das Sie so schnell nicht vergessen werden!
Source: Reservix