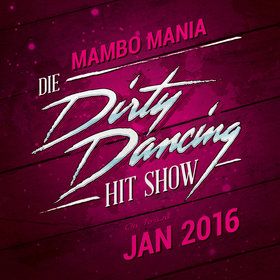 Dirty Dancing ist einfach Kult. Hits wie "Time of my Life" und "Big Girls Don´t Cry" haben in den vergangenen Jahrzehnten nicht nur große Gefühle ausgelöst, sondern auch ein weltweites Tanzfieber. Und nun geht der Kult mit der Dirty Dancing Hit Show in die nächste Runde. Eine Auswahl an erstklassigen Star-Tänzern bringt das Tanzfieber in einer fulminanten Show auf die Bühne.

Das große Spektakel hat einen Namen: The Dirty Dancing Show – Mambo Mania. Zu feurigen brasilianischen Rhythmen zeigen die Tänzer und Tänzerinnen der Mambo Dance Company die besten und leidenschaftlichsten Tanzszenen aus dem wunderbaren Film. Wolfgang Maurer, der unter anderem imposante Shows in Las Vegas choreografierte, hat nun zusammen mit Star-Tänzern diese einzigartige Show auf die Beine gestellt. Doch die Dirty Dancing Hit Show überzeugt nicht nur durch professionelle Tänzer, sondern auch durch die tollen Kostüme und Livegesang, der den Hits von damals noch einmal Leben einhaucht. Fans des Kult-Films bekommen hier also das Komplettpaket geboten. Kein Wunder, dass sich die Show bei Jung und Alt größter Beliebtheit erfreut. Hier treffen Tanz, Akrobatik, Gesang und Nostalgie aufeinander.

Dieses Spektakel sollten Sie sich auf keinen Fall entgehen lassen. Erleben Sie die Dirty Dancing Show live mit Karten von Reservix und genießen Sie einen unvergesslichen Abend. Hier ist beste Unterhaltung garantiert!
Source: Reservix