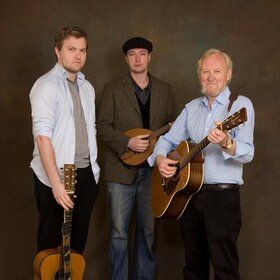 Seán Cannon prägte mit seiner Stimme dreißig Jahre lang den Sound der Irish Folk-Gruppe The Dubliners, welche sich in ihrer fünfzigjährigen Geschichte zur bekanntesten und erfolgreichsten Band dieses Genres etablieren konnte.

Zunächst begann Seán Cannon mit seinem Sohn James ab 2007 unter dem Namen The Cannons zu spielen und nutzte die Tourpausen der Dubliners für regelmäßige Konzerte in Deutschland, England, Kroatien und den Niederlanden. Vor allem die zweiwöchigen Touren durch Deutschland wurden von Presse und Publikum begeistert aufgenommen. Seit 2011 ist Seán Cannons jüngerer Sohn Robert ebenfalls Teil seiner Band. Zum Repertoire zählen neben den Celtic Folk-Klassikern auch gälische Raritäten und Lieder aus dem amerikanischen Folk- und Countrybereich.

Lassen Sie sich durch schnelle Reels und Jigs zum Mitklatschen und Tanzen auffordern, denn The Cannons werden Ihnen einen spaßigen Abend bieten. Mandolinen, Gitarren und Mundharmonikas gepaart mit dem wunderbaren Gesang der Familie Cannon weckt das irische Lebensgefühl auch in Ihnen. Überzeugen Sie sich selbst!
Source: Reservix