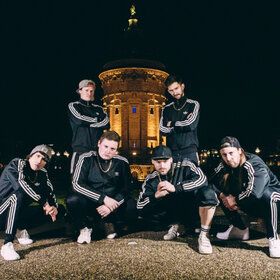 The Butcher Sisters entern 2023 mit ihrer brandneuen Single "Drei Streifen" sowie ihrem aktuellen Album "Alpha & Opfah" die Stages der Bundesrepublik. Mit fetten Hardcore-Riffs und tighten Deutschraps ist hier der knallharte Abriss vorprogrammiert. Hole dir jetzt Tickets und wippe mit der Menge zur Musik!

Was Ende der 90er-Jahre schon fast zu einem Schimpfwort mutiert ist, machen The Butcher Sisters wieder cool: Ihr Crossover aus Metal und Rap gibt dem Publikum direkt eins auf die Mütze und sorgt noch tagelang für Nackenmuskelkater. 

Als 2011 der Mond in ein baden-württembergisches Ghetto krachte, war es so weit: The Butcher Sisters wurden an die Oberfläche der Musiklandschaft katapultiert. Durch niveauflexible Texte, treibende Soundwände und jede Menge Selbstironie in ihren Songs schafft es das Sextett gemeinsam mit dem Plattenlabel "Bleeding Nose Records" im Nu, sich einen Namen zu machen. Das Haftbefehl-Cover von "Ich rolle mit meim Besten" und der selbstbetitelte Erstling tragen ihr Übriges dazu bei. Mit "Respekt und Robustheit" gehen The Butcher Sister dann auch weiter unbeirrt ihren Weg, "Cruisen" durch die Stadt und vertreibt sich die Band neben seinen Auftritten bei Festivals und Konzerten die Zeit mit gesellschaftlich relevanten Dingen wie "Schwanzvergleich". 

Bei The Butcher Sisters ist lediglich das Niveau noch tiefer als der Bass. Das macht aber überhaupt nichts, denn was hier abgefeuert wird, ist fetter als jede Massephase und knallt mehr als jeder Booster. Also nicht lang schnacken und Ticket einpacken!
Source: Reservix