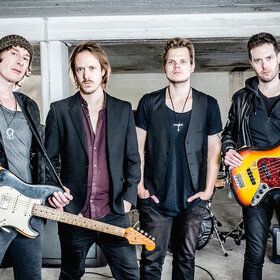 The Blue Poets sollten sich eher "The Blues Rock Poets" nennen. Denn genau das bekommen Sie hier geboten: Klaren, puristischen Blues-Rock Sound, der direkt den 60er und 70er Jahren entsprungen sein könnte und live richtig Fahrt aufnimmt.

Hinter der Band finden sich vier großartige Künstler. Guitar-Hero-Award-Träger Marcus Deml, Gordon Grey mit seiner rauen Stimme, Bassist Phil Steen und Felix Dehmel an den Drums. The Blue Poets haben sich 2014 formiert und konnten bereits zwei Jahre später ihr erstes Album verzeichnen. Perfektes Handwerk und tiefe Leidenschaft für die eigenen Songs sorgen für die unglaublichen Konzerte der Band. Da ist es nicht verwunderlich, dass 2018 ihre erste Live-Platte "Live Power" von der Presse hochgelobt wurde. Mit einer gezielten Trackauswahl gelingt den Musiker, das unglaubliche Gefühl ihrer Konzerte zu transportieren, das sich niemand entgehen lassen sollte.

Wenn The Blue Poets auftreten, sollten Sie nicht zögern und sich in die erste Reihe stellen. Denn hier wird eine erstklassige Show geliefert. Jetzt Tickets sichern!
Source: Reservix