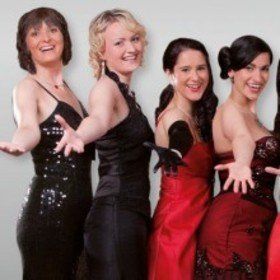 Gänsehautfeeling hoch zehn – das ist bei den Auftritten von The 10 Sopranos garantiert!
Die zehn hinreißenden Sopranistinnen präsentieren eine Show, die vielfältiger nicht sein könnte: von powergeladenen Rock-Klassikern über schwungvollen Pop-Nummern zum Mitklatschen bis zu hochemotionalen, klassischen Stücken ist alles dabei!

Das talentierte Dezett erobert mit seinem Ritt durch sämtliche Musikgenre sein Publikum im Sturm. Mitreißende Oper, flotte Operette und "Ave Maria" sind vetreten, aber auch Joe Cockers "With a Little Help From My Friends", "Son of a Preacher Man" und der "Abendsegen" aus Hänsel und Gretel!

Die starken Stimmen jeder einzelnen Sängerin von The 10 Sopranos finden sich dabei zu einem beeindruckenden Ensemblespiel zusammen. Gewürzt mit einer einzigartigen Choreographie, beeindruckender Lichtshow und viel Singfreude von Seiten der Musikerinnen ergibt sich ein Abend, der verzaubert und bestens unterhält!
Source: Reservix