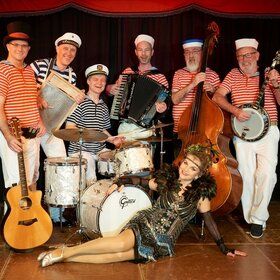 Eine Bühne so rot und verrucht, wie es sonst nur das Pariser Moulin Rouge sein könnte. Sängerin Julia Kempinsky und die teuflisch guten Jazz Rebels laden mit Pauken und Trompeten zum Showevent "Stompin' at the Cotton Club". Erleben Sie Hot Jazz und Charleston live und in Farbe, als wären die 20er-Jahre nie zu Ende gegangen!

Auch in der neuen Spielzeit hat Kempinsky wieder einiges an Show-Kostümen und Steppeinlagen im Schlepptau. Mit ihren geschmeidigen Tänzerinnen und der zehnköpfigen Jazzband macht sie dem Publikum ordentlich Feuer unter dem Hintern: Sobald ihre Füße einmal zu steppen und ihre Hüften zu schwingen begonnen haben, führt kein Weg mehr zurück. Ihr freudiges Lächeln animiert die Zuschauer umso mehr, bei ihrem Tanz- und Musikabend mitzumachen. Zum Repertoire der Jazz Rebels gehören sowohl unverzichtbare Klassiker als auch unbekanntere Nummern. Übrigens erhält jeder verkleidete Gast im Stil der 20er-Jahre ein gratis Willkommensgetränk. Als sei das proppenvolle Abendprogramm nicht schon einladend genug!

Dieser feuchtfröhliche Jazzabend steht ganz im Namen der berühmten Verse des Pianisten Duke Ellington: "It don't mean a thing, if it ain't got that swing!" Sie fühlen sich angesprochen? Dann nichts wie los ins Swing-Kleid oder in den Smoking und Tickets für "Stompin' at the Cotton Club" gesichert. Lassen Sie sich überraschen, wie vielfältig die Musik der goldenen Epoche sein kann!
Source: Reservix