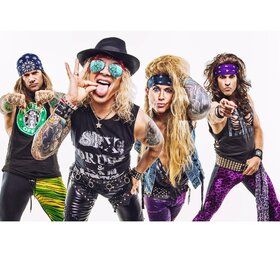 Ein imposanter Bühnenauftritt, mitreißender Metal-Gesang und ihre einzigartige Gitarrenarbeit machen Steel Panther zur perfekten Live-Band - mit fetzigem Gitarren-Sound und Songtexten, die sich hauptsächlich mit Sex, Drugs und Rock 'n' Roll befassen! Ihr Auftreten ist eine Hommage (und auch ein bisschen Parodie) der 80er-Hair-Metal-Bands wie Whitesnake, Warrant oder Van Halen. Und dabei hat Steel Panter musikalisch jede Menge drauf.

In den 90er Jahren ursprünglich als Van Halen-Tribute gegründet, entwickelte sich Steel Panther jedoch schnell zu einer angesagten Sleaze Rock Band. Mit ihren beiden Alben "Feel the Steel" und "Balls Out" landete die Gruppe direkt auf Platz 1 der Billboard Comedy Album-Charts und machte sie somit international bekannt. Jetzt sind Michael Starr, Satchel, Lexxi Foxx and Stix Zadinia wieder auf Tour und begeistern Fans in vielen Städten, u.a. Köln, München und Hamburg.

Sichern Sie sich jetzt Tickets für diese grandiose Rock-Show und erleben Sie eine der großartigsten Glam Metal Bands live! Die Steel Panther lassen diese unvergessliche Zeit wieder aufleben und werden auch Sie in ihren Bann ziehen!
Source: Reservix