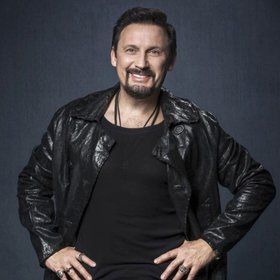 Stanislav
Stas Mikhailov ist einer der erfolgreichsten Sänger und Komponisten Russlands, der sein Publikum mit seiner wunderschön sanften und sinnlichen Stimme verzaubert. Seine Alben wie "I'm Coming To You", "Heaven" oder "Only you" erzählen von Liebe, tiefen Gefühlen und erwecken in uns allen wunderbare Emotionen.

In kürzester Zeit gelang es dem leidenschaftlichen Sänger, sich zu einer brillanten Individualität zu etablieren. Auf eigene Faust und ganz gegen die Regeln des Show-Business wurde Stas Mikhailov zu einem der beliebtesten Sänger, der Konzerthallen in Russland und auch im Ausland füllt. In seiner Heimat wurde er 2010 mit dem begehrten "Meritorious Artist of the Russian Ferderation"-Preis ausgezeichnet, welcher seine musikalischen Werke ehrt.

Auf seinen Konzerten sorgt er mit seinen Tanzliedern für beste Stimmung und dringt mit seinem kraftvollen Gesang und seinen philosophischen Stücken in unser Gehör. Tiefgreifende Texte und beeindruckende Arrangements lassen den Abend mit Stas Mikhailov zu einem unvergesslichen Erlebnis werden.
Source: Reservix