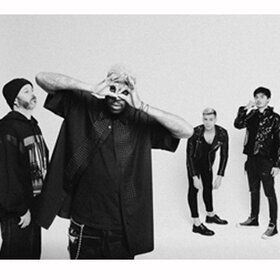 Aus ihrer vormaligen Punkband "Carving" heraus, gründete sich 2007 die Band "Skip the Use" und verbreitet seither auf jedem ihrer Konzerte einen explosiven Cocktail aus Rock und Electro. Die fünf Jungs aus dem nordfranzösischen Lille, namentlich Mat, Yan, Jay, Lionel und Max, sind in ihrer Heimat bereits echt Größen und wollen nun der internationalen Musiklandschaft einen gehörigen Tritt verpassen.

Sie werden nach Bands wie Artic Monkeys und Bloc Party als das nächste große Ding gehandelt und reißen mit ihren kraftvollen, verrückten und tanzbaren Songs jeden Hörer mit. Ihr sehnlichst erwartete Zweitalbum "Can Be Late" wurde 2012 zum "Rock album oft the year" gewählt. Als Support für"Rage Against the Machine" sorgten die fünf französischen Jungs für enorme Aufmerksamkeiten und das Interesse an der Band steigt von Tag zu Tag.

Skip the Use sind ein wahrer Garant für ein solides Rock- Erlebnis, das auch den Hörern der Beatsteaks oder Franz Ferdinand wahre Freude bereiten wird. Eine zum Tanzen zwingende Vitaminspritze.
Source: Reservix