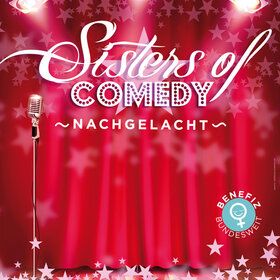 Frauen an die Macht! Mit "Sisters of Comedy" gehen Komikerinnen in die Offensive, die sich nicht vorschreiben lassen wollen, was sie dürfen und was nicht. Im Gepäck: Die geladene und entsicherte Waffe des Humors!

In mehreren Städten zeigen über 70 Komikerinnen, dass "Sisters of Comedy" fernab von Witzen über Frustshopping und Bindegewebe eine fulminante Show zu bieten hat. Und das mit allem, was Deutschlands brodelnde Komikerinnenszene zu bieten hat: Comediennes, Musik-Kabarettistinnen und Poetry-Slammerinnen bringen hier die Lachmuskeln auf Touren und die Gehirnzellen zum Nachdenken. Was die Veranstaltung noch sympathischer macht, ist, dass ein Teil der Einnahmen an lokale Frauenhilfsprojekte gespendet wird.

"Humor ist die Reinform des Widerstands!" Entsprechend diesem Motto erwartet das Publikum eine krachend-kabarettistisch, furios-feminine und derbe-divenhafte Show. Hier bekommen Sie ein Programm zu allen Facetten des Frau-Seins. Für sie und ihn und alle dazwischen! Sehr sehenswert!
Source: Reservix