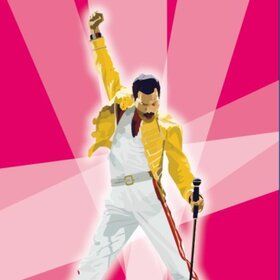 Freddie Mercury war zweifellos einer der bedeutendsten Rocksänger der Geschichte. Für Queen komponierte er Welthits wie "Bohemian Rhapsody" oder "We Are the Champions". Nach ihrem Durchbruch 1974 füllten die Briten weltweit ganze Stadien und lieferten ihren Fans eine einzigartige Komposition aus Rock und Theatralik. Jetzt gibt es die Welterfolge als Musical.

Abseits von Queen war Freddie Mercury für seinen ausschweifenden und dekadenten Lebensstil bekannt. Seine Extravaganz auf der Bühne lebte er in seinem Privatleben nicht weniger aus. Ingmar Otto schrieb ein Musical, das sich autobiographisch dem Leben des Künstlers widmet. Die abwechslungsreiche musikalische Inszenierung setzt ihren Fokus auf den charismatischen Freddie Mercury, wobei große Hits von Queen nicht fehlen dürfen.

SHOW MUST GO ON – A Tribute to Freddie Mercury ist ein absolutes Muss für jeden Queen-Fan. Das Musical bietet die einmalige Möglichkeit, den Geist der verstorbenen Rocklegende erneut auf die Bühne zu holen.
Source: Reservix