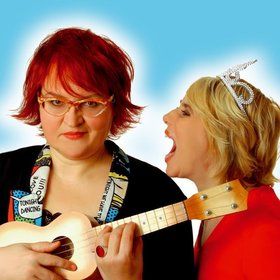 Wer seit über zwanzig Jahren gemeinsam auf der Bühne steht, hat mindestens genauso viele Probleme wie in einer Ehe von gleicher Dauer. Denn allein die Ankündigung als One-Woman-Show sorgt sofort für Zündstoff: Wer ist die Nummer zwei im Programm? Oder geht es doch um den zweiten Programmpunkt? Und einigt man sich doch auf die One-and-a-half-Women Show?

Seit 1994 bilden Connie Webs und Claudia Brendler das Duo Queens of Spleens. In all den Jahren ihrer Schaffenszeit entwickelten sie viele Programme, die immer wieder mit wichtigen Preisen ausgezeichnet wurden. Ebenso wurden mehrere CDs und DVDs veröffentlicht und sie waren des Öfteren zu Gast bei verschiedenen Rundfunk- und TV-Sendern. Ursprünglich sind die beiden studierte Musikerinnen, daher gibt es von ihnen auch Abende mit Blues und Jazz zu sehen und vor allem zu hören.

Die zwei Damen von Queens of Spleens bieten Comedy vom Feinsten. Hier wird kein Auge trocken bleiben und die Lachmuskeln werden bis an ihre Grenzen belastet. Mit ihrem durchgeknallten, hochmusikalischen und schrägen Programm werden Sie einen unvergesslichen Abend erleben!
Source: Reservix