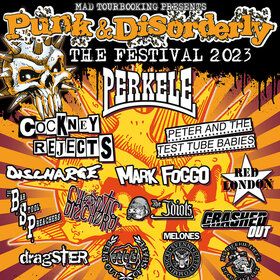 Richtig zur Musik abfeiern ist 2023 endlich wieder möglich! Vom 18. bis 20. Mai steigt im Astra Kulturhaus in Berlin Friedrichshain das alljährliche Punk & Disorderly Festival! Fast 30 verschiedene Bands bringen die Bühne hier zum Beben. Sei auch du 2023 vor Ort dabei, wenn die Bands das Wochenende über alles geben und damit begeistern. Jetzt Tickets für das Punk & Disorderly Festival sichern!

Ob Punkrock, Oi!, Streetpunk, Hardcore oder andere Untergruppierungen des Genres – das Punk & Disorderly Festival erschafft für Punk-Fans ein legendäres Utop der Musik. Eine nahezu endlose Reihe an fantastischen Live-Acts, krassen Beats und fetzigen Lines greifen hier Hand in Hand und sorgen somit für eine Unmenge an Spaß!

Das Punk & Disorderly Festival hat sich als größtes Indoor-Punk-Festival ganz Europas hinlänglich seinen Namen über die Landesgrenzen hinweg gemacht. Seit 2002 lockt es jährlich über 2000 Punk-Fans von Nah und Fern nach Berlin in das Astra Kulturhaus. Geboten wird diesen dann nicht nur eine Vielfalt an internationalen Punk-Bands, sondern auch reichlich Imbiss- und Getränkestände zum Energie auftanken.

Das Punk & Disorderly Festival ist ein wahres Highlight, das man sich als wahrer Punk-Fan auf keinen Fall entgehen lassen sollte! Hole dir deshalb jetzt sofort Tickets und gehe in diesem Jahr so richtig zur Musik ab!

Line-Up 2023: Perkele / Cockney Rejects / Peter and the test tube babies / Mark Foggo / Discharge / Red London / Chaotic Dischord / Idiots / Crashed Out / dragster / Melones / u. v. m.
Source: Reservix