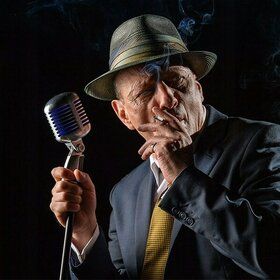 Die Frank Sinatra Show mit Sänger David Knopov
Sie hätten Sinatras Klassiker wie "Fly Me to the Moon" oder "My Way" zu gerne einmal live erlebt? Wie wäre es mit einem erstklassigen Tribute-Konzert von Sänger David Knopov, der seit über 30 Jahren "Perfectly Frank" auf die Bühne bringt!

"To Be Perfectly Frank" ist eine beinahe vergessene Radio-Show des Unterhaltungskünstlers Frank Sinatra. Von 1953 bis 1955 sendete er jede Woche sein 15-minütiges Programm per Rundfunk in die weite Welt. Die namentlich daran angelehnte Tribute Show "Perfectly Frank" findet natürlich live statt und das seit über 30 Jahren mit großem Erfolg. David Knopov hat in seiner glanzvollen Karriere einiges erlebt. Doch Sinatras Musik hat es ihm von jeher angetan. Knopovs Interpretation von "Frankie Boy" ist kreativ und originell. Seine Taktik ist nicht die Imitation, sondern persönliche Authentizität verbunden mit einer Stimme, welche der des Vorbilds verblüffend ähnlich ist. Gemeinsam mit einer mehrköpfigen Band und dem Pianisten Dominik Schirmer, der schon mit Größen wie Paul McCartney oder Tracy Chapman zusammengearbeitet hat, entsteht ein fulminantes Konzerterlebnis!

Er war Sänger, Schauspieler, Entertainer. Selbst nach seinem Tod begeistert Frank Sinatra noch Millionen von Menschen. Durch seine Musik, seine Filme und durch geniale Tribute-Shows lebt der Künstler weiter. Sichern Sie sich jetzt Tickets für "Perfectly Frank" mit Danny Knopov in der Hauptrolle!
Source: Reservix