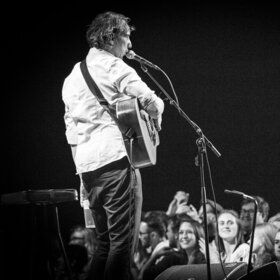 Olli Schulz ist eine echte Bereicherung der deutschen Unterhaltungslandschaft. Ob als witziger Geschichtenerzähler, begnadeter Musiker mit seiner Band "Der Hund Marie" oder als weltverbessernde Moderations- Allzweckwaffe, Olli Schulz ist ein Geschenk des Himmels. Auf Pro7 reist er in einer Holzkiste bei "Schulz in the Box" an extravagante Orte der Welt und an der Seite von Joko und Klaas ist Schulz u.a. regelmäßig in der Show "CircusHalliGalli" zu bewundern und sorgt für jede Menge Unterhaltung.

Das erste Album trug den epischen Namen "Brichst Du mir das Herz, dann brech' ich Dir die Beine" und machte erstmals musikalisch auf Schulz aufmerksam. Jahre später stieg seine Single "Mach den Bibo" auf Platz 38 der deutschen Charts ein. Neben der Musik, macht der Schulz besonders durch skurrile Aktionen auf sich aufmerksam. So besucht er im Rahmen seiner Solo-TV-Show "Schulz in the box", nackte Hippies, die mit "Erwachsenenfilmchen" den Regenwald retten wollen oder wird in mittellos in Tokyo ausgesetzt.

Das Multitalent Schulz revolutioniert TV, Radio und Bühne. Egal was Olli Schulz darbietet, es ist auf jeden Fall immer unterhaltsam.
Source: Reservix