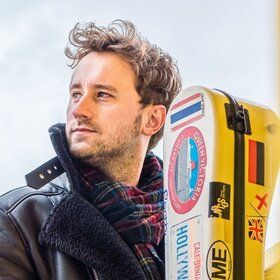 2022 haben Sie die Möglichkeit, Michael Christian Durrant zu erleben. Im Rahmen der "Solo Momente" präsentiert er Songs, die ihn musikalisch und menschlich in besonderer Art und Weise prägten. Nicht verpassen!

Michael Christian Durrant zählt zu den herausragendsten jungen Künstlerpersönlichkeiten aus England. Von der Presse wird er als Wegbereiter einer neuen Generation klassischer Gitarristen gefeiert. Zahlreiche Konzerte kann der Musiker bereits vorweisen, bei denen er stets sein Publikum begeistert: Egal ob allein oder gemeinsam mit Künstlern wie Nico de Villiers und Alexander Markov.

Michael Christian Durrant studierte klassische Gitarre am Royal College of Music in London bei Carlos Bonell. An der Accademia della Chitarra di Brescia in Italien führte er seine Studien bei Giulio Tampalini fort. Sein erstes Album "Romantíco: Romantic solos for classical guitar" wurde 2014 veröffentlicht. Es folgten einige Livealben, unter anderem "Live at Winchester Cathedral". 2019 legte der Gitarrist gleich zwei Alben nach. Zunächst erschien das Soloalbum "Traditions of the Classical Guitar". Anschließend folgte "Guitarra, el Corazón de España", gemeinsam mit dem Flamenco-Gitarristen Samuel Moore.

Wenn Michael Christian Durrant mit seiner Gitarre auf der Bühne ist, dürfen sich die Gäste auf hochklassige Musik gefasst machen. Sichern Sie sich Ihre Tickets und lassen Sie sich den Künstler live nicht entgehen!
Source: Reservix