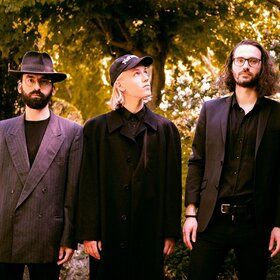 MATIJA sieht sich selbst als Live-Band und ihre Musik möchte auch genau so erlebt werden. Wenn das mal nicht Grund genug ist, die Newcomer aus München auf der aktuellen "More Than Happiness Tour"-Tour 2022 hautnah zu erleben. Tickets für die Tour gibt es jetzt bei Reservix!

Elektrische Gitarren, engelsgleiche Kopfstimme und barocke Blockflöte. Das sind nur ein paar vergebliche Versuche, den Sound von MATIJA in eine Schublade zu stecken. Das Trio aus München zwingt mit seiner Musik alle in die Knie, die eine Schwäche für alternative Popklänge haben.

Der gemeinsame Weg der Band begann bereits in der Schule. Früher unter dem Namen "The Capitols" bekannt, spielte die Schulband erste Clubshows und vereinzelt auf Festivals. Später bewiesen sich MATIJA als Vorgruppe für renommierte Bands wie The 1975, Catfish and the Bottlemen oder Wanda. Ende 2017 erschien das Debütalbum "Are We an Electric Generation Falling Apart?", bevor Videosingles wie "Justify Your Love" oder "The Calling" veröffentlicht wurden. 2019 ging die Band das erste Mal selbst auf Tour.

Diverse Einflüsse aus Indie, Rock und Pop machen das Repertoire der Münchner zu einem bunten Blumenstrauß, in dem alle ihre Rose finden. Bereiten auch Sie jemandem eine Freude und sichern Sie sich ein Ticket für MATIJA und eine ganz besondere Facette der Popmusik.
Source: Reservix