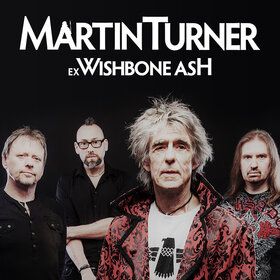 Wishbone Ash ist seit Jahrzehnten bekannt für ihre melodische und gitarrenorientierte Rockmusik. Sie gilt als eine der ersten Bands, die zwei Leadgitarristen nutzten. Der Name Martin Turner ist fest mit Wishbone Ash verbunden, denn als Gründungsmitglied, kreativer Kopf, Bassist und Leadsänger trug er maßgeblich zum Erfolg der britischen Rockband bei.

Martin Turner wurde 1947 in Torquay an der Südküste Englands geboren. Er war von 1969 bis 1980 Teil der Hard- und Bluesrock-Band Wishbone Ash, kehrte Ende der 80er für ein paar Jahre wieder zurück und startete mit "Walking the Reeperbahn" 1996 ohne die Band durch. Neun Jahre später gründete er die Band Martin Turner's Wishbone Ash und veröffentlichte 2008 schließlich sein zweites Album "Argus: Through The Looking Glass". Es folgte sein autobiografisches Werk und das dritte Album "Written In The Stars" (2015), das zu dem Wishbone Ash-Sound der 70er zurückkehrte.

Mit seiner ausdrucksstarken Stimme, seinen Fähigkeiten als Songwriter und dem Gespür für harmonische Melodien erschafft Martin Turner seit mehreren Dekaden einen unverwechselbaren Rocksound. Erleben auch Sie den Altrocker live!
Source: Reservix