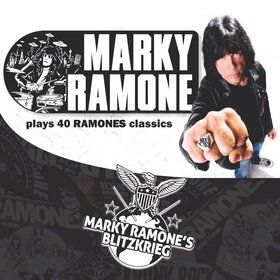 Marky Ramones Blitzkrieg sind die Hüter des Punkrock! Sie bringen die Hits der legendären New Yorker Band Ramones zurück auf die Bühne und zünden auch gerne eigene Kracher. Alles natürlich wie gewohnt schnell, rau und laut. So wie echter Punk eben sein muss. 

Hinter der Band steckt Marky Ramone, begnadeter Drummer und ehemaliges Mitglied der legendären Ramones. Trotzt Platz in der Rock and Roll Hall of Fame und einem Grammy Lifetime Award wird er einfach nicht ruhiger. 2010 gründete er Marky Ramones Blitzkrieg und tourt seitdem mit wechselnder Besetzung um die Welt. Darunter finden sich Szenegrößen wie Greg Hetson, Ex-Gitarrist von Bad Religion oder Michale Graves, Ex-Sänger der Band Misfits. Der Name der Band, angelehnt an den großen Ramones-Song "Blitzkrieg Bop", ist kein Zufall, sondern Programm. Hier wird Punkrock aus über vier Jahrzehnten wiedergeboren, der noch immer unüberhörbar Auflehnung fordert.

Für Punk- und Ramones-Fans sind die Konzerte von Marky Ramones Blitzkrieg ein absolutes Muss. Verpasse nicht deine Chance dabei zu sein und sichere dir jetzt dein Ticket!
Source: Reservix