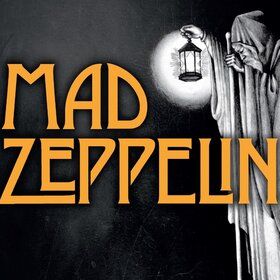 Eine Show von Mad Zeppelin - A Tribute to Led Zeppelin ist wie eine Zeitreise in die goldene Ära des Rock. Den fünf Musikern gelingt es mit Bravour, den majestätischen Sound der "Stairway To Heaven"-Idole auf die Bühne zu bringen. Das ist für alle, die entweder Sehnsucht nach der guten alten Zeit haben oder Led Zeppelin selbst nie live erleben durften. So oder so, ein Muss!

Seit 2000 ist die Tribute-Band mittlerweile unterwegs und hat sich einen exzellenten Ruf erspielt. Von besser als das Original zu sprechen wäre vermessen, aber wenn man Mad Zeppelins drückende Power der Rhythmusfraktion sowie das dynamische Wechselspiel von Gesang und Lead-Gitarre hört, kommt der Gedanke schon mal auf. Auf ihren über zweistündigen Auftritten rocken sich Mad Zeppelin durch die Hits der Hits ihrer Vorbilder – und das stilecht. Das "Moby Dick"-Schlagzeugsolo wird auf dem original Ludwig Acryl-Drumset gespielt, die Doppelhalsgitarre von Jimmy Page ist mit dabei und für den Konzertfilm "The Song Remains The Same" kommt der Geigenbogen zum Einsatz.

Mit Mad Zeppelin - A Tribute to Led Zeppelin bekommen Sie die Gelegenheit, die Rockgiganten der 70er-Jahre in aktuellem Gewand zu erleben. So viel Detailverliebtheit und Hingabe zur Musik haben Sie noch nicht gesehen. Jetzt schnell Ticket sichern!
Source: Reservix