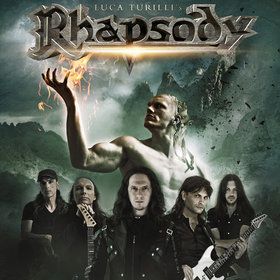 Nachdem im August 2011 die Bombe platzte, dass sich Gitarrist Luca Turilli in Freundschaft von der erfolgreichen "Film Score Metal" Band Rhapsody of Fire trennte, war diese aber nicht am Ende. Während dort die Besetzung wieder aufgefüllt wurde, legte Luca Turilli den Grundstein für eine weitere Rhapsody Band, die nun seinen Namen trägt.

Luca Turilli holte sich unter anderem den Gitarristen Alex von Rhapsody of Fire in seine Band, um parallele Touren zu vermeiden, der sich aber aus organisatorischen Gründen nach einiger Zeit wieder aus der Gruppe zurückzog. Außerdem konnte er Sänger Alessandro Conti ins Boot holen, der wie Luciano Pavarotti an der Corale Lirica Rossini studierte. Ihr erstes Album "Ascending to Infinity" erschien 2012 und fand sofort Anklang bei den Fans. Auch ihr 2015 veröffentlichte Nachfolger "Prometheus – Symphonia Ignis Divinus" schloss nahtlos an den Erfolg an.

Erleben Sie mit Luca Turilli's Rhapsody eine italienische Symphonic-Power-Metalband, die es in sich hat. Hier gibt es epische Songs mit harten Gitarrenriffs zu hören, die in eine Welt voller Fantasie einladen. Überzeugen Sie sich selbst und seinen Sie Teil einer großen Fantasy-Saga!
Source: Reservix