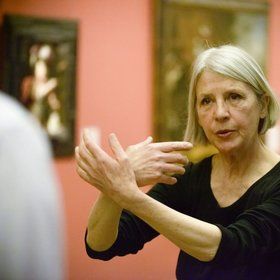 "From the Inside Out" – Bewegende Bilder
Es gibt wohl wenige Menschen, die die Kunst des Tanzes so verinnerlicht haben wie Liz King. Die Tänzerin und Choreographin eröffnet ganz neue Perspektiven auf die Kunst, Räume und den eigenen Körper. In vielen verschiedenen Projekten teilt sie ihr Wissen um die bewegte Ausdrucksform und zeigt völlig neue, ungeahnte Möglichkeiten.

Die gebürtige Engländerin lernte an der Royal Ballet School in London. Über viele Stationen wie das Stuttgarter Ballett oder das Ballet Royal de Wallonie landete sie schließlich in Wien, wo sie das Tanztheater gründete und somit eine Pionierin des zeitgenössischen Tanzes wurde. Heute leitet sie ihr eigenes Tanzzentrum D.ID Dance-Identity, wo sie professionelle Tänzerinnen und Tänzer unterstützt und verschiedene Projekte mit Laien durchführt. Zudem bietet sie eine Vielzahl interessanter Workshops wie "From The Inside Out" an, in denen sie den Teilnehmern Wege zeigt, durch die eigenen Bewegungen Gemälde von bekannten Malern wie Bosch, Cranach oder Rubens auf völlig neue Weise wahrzunehmen.

Lassen auch Sie sich darauf ein und folgen Sie Liz King auf eine Reise durch die Kunst und das eigene Selbst. Lernen Sie, auf die Intelligenz des eigenen Körpers zu vertrauen und Kunstwerke kreativ neu zu erkunden. Sie werden staunen, was durch die gelenkte Aufmerksamkeit alles offenbar wird.
Source: Reservix