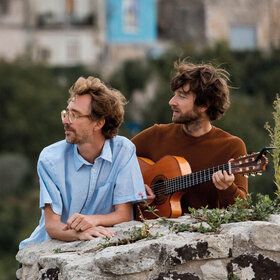 Seid dabei, wenn die Kings of Convenience am 14. Juni 2022 nach Hamburg kommen. Norwegischer Indie-Pop und Folk von Eirik Glambek Bøe und Erlend Øye. 2021 erschien das vierte Album "Peace or Love", worin das Leben, die Liebe und die allem innewohnende Schönheit besungen werden. Jetzt Tickets mit Reservix sichern!

Hinter den Kings of Convenience steckt das Duo Eirik Glambek Bøe und Erlend Øye. Gemeinsam sind sie für Gesang, Gitarre, Klavier, Schlagzeug und andere Percussion verantwortlich. Die Norweger vereinen klassischen Indie mit Folk, Pop- und eigenen ruhigen Elementen, die teils an Simon & Garfunkel erinnern.

Beide sind sie 1975 geboren und lieben Musik: Eirik Glambek Bøe und Erlend Øye aus Bergen in Norwegen stammend, entschieden sich eines Tages, gemeinsam Musik zu produzieren. So wurden aus ihnen die Kings of Convenience, was zu Deutsch "Könige der Bequemlichkeit" bedeutet. Zu den ersten veröffentlichten Singles zählt "Toxic Girl". Im Jahr 2001 publishten die Musiker sowohl ihre Debüt-LP "Quiet Is The New Loud" als auch ein Remix-Album "Versus" im selben Jahr. Weitere Platten prägen den Erfolg der Könige, der in der Retrospektive überhaupt nicht aus Bequemlichkeit entstanden zu sein scheint. Das vierte Studioalbum "Peace or Love" schließlich enthält elf Songs. Im Übrigen kennen sich Eirik und Erlend seit ihrem elften Lebensjahr.

Bereit für lupenreinen Indie aus Skandinavien? Dann sichert euch jetzt Tickets für ein Live-Konzert der Kings of Convenience.
Source: Reservix