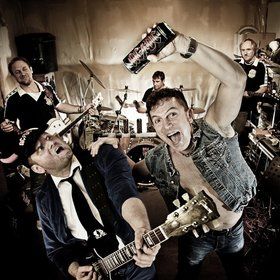 Wenn die ersten Gitarrenklänge ertönen, weiß jeder, dass eine spektakuläre und ultrastarkstromgeladene Bühnenshow auf ihn wartet. Kaum einem AC/DC-Fan ist diese Coverband nicht schon längst ein Begriff, denn bei ihnen klingt es wie bei Original. Bis in kleinste Detail wird ein Best of der frühen Bandjahre rund um Bon Scott abgeliefert.

Für Mitgründer und ehemaligen AC/DC Sänger Dave Evans waren die Frankfurter Musiker sogar so gut, dass er sie als Begleitband auf Tour mitnahm. Auch die Rockband Foreigner wählte "Hole Full Of Love" als Support einer ihrer Europatourneen.

Live geht bei einer der besten AC/DC-Coverbands Deutschlands mächtig die Post ab.
Rundum: "Hole Full Of Love" macht den australischen Rock-Titanen alle Ehre und versetzt den Besucher in eine Zeit zurück in der das Tragen von Schlaghosen nicht überwiegend Zimmermännern vorbehalten war.
Source: Reservix