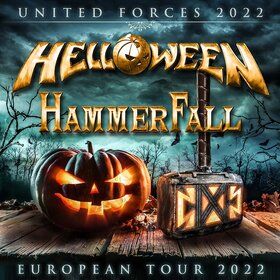 Helloween rocken mit bestem Speed-und Power-Metal die Bühne. Die Jungs aus Hamburg stehen schon seit über 25 Jahren für besten Metal-Sound und zählen damit schon fast zu den alten Hasen in der Szene. Live ist die Band noch immer so jung, radikal und direkt wie schon zu früheren Zeiten. Helloween sind zweifelsohne aus der dunkleren Musik-Welt nicht mehr wegzudenken!

1984 wurde die Band in Hamburg gegründet. Seitdem zählt Helloween zu einer der erfolgreichsten, deutschen Metal-Bands überhaupt. 1987 kam gleich der erste richtig große Erfolg für die Jungs: ihr Album "Keeper of the Seven Keys" schlug ein wie eine Bombe und gilt bis heute als stilgebend und prägend für die gesamte Speed-Metal-Szene. Mit ihrem härteren und schnellen Stil gepaart mit einer gehörigen Portion Melodie und technischer Raffinesse traf die Band absolut den Zeitgeist von damals. Seitdem hat Helloween satte 15 Alben veröffentlicht und gerade die Platten der letzten Jahre kamen bei ihren Fans richtig gut an. Das neueste Album "My God-Given Right" stieg von 0 auf Platz 8 der deutschen Album-Charts ein. Für eine Speed-und Power-Metal-Band wie Helloween eine riesige Auszeichnung!

Auch Österreich und die Schweiz sind vom Helloween-Fieber infiziert! Die Hamburger Jungs beweisen damit einmal mehr, dass Deutschland im Bereich der härteren Gangart einiges zu bieten hat. Ein Helloween-Konzert ist für alle Metal-Fans ein absolutes Muss!
Source: Reservix