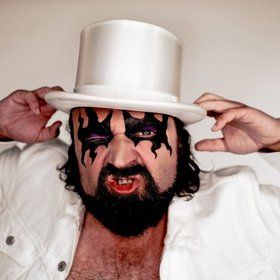 Hank von Hell aka Hank von Helvete meldet sich als Solokünstler zurück. Der ehemalige Frontmann der Band Turbonegro zeigt, dass er nach Jahrzehnten auf der Bühne sein Handwerk noch immer bestens beherrscht. Fans hierzulande dürfen sich freuen, wenn der Rockmusiker mit Hits wie "Bum to Bum" nach Deutschland kommt.

Hank von Hell heißt mit bürgerlichem Namen Hans Erik Dyvik Husby und erblickte 1972 in der nordnorwegischen Region Lofoten das Licht der Welt. Ab 1993 stand er für die Punk 'n' Roll-Formation Turbonegro am Mikrofon, mit der er weltweit große Erfolge feiern konnte. Doch bandinterne Differenzen führten dazu, dass Hank von Hell 2010 die Truppe verließ. Kurzzeitig war er zur gleichen Zeit mit der Supergroup Doctor Midnight & The Mercy Cult unterwegs. Sein Comeback feierte er 2018 mit dem Album "Egomania", während er sich zuvor sozialen Engagements auf den heimischen Lofoten-Inseln widmete.

Ein Konzert mit Hank von Hell ist ein absoluten Rock 'n' Roll-Feuerwerk. Lasst euch die Tour nicht entgehen und sichert euch schnell eure Tickets! 
Source: Reservix