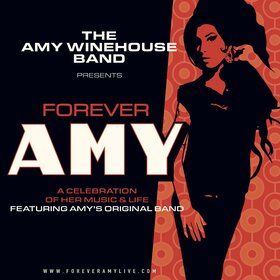 Forever Amy – A Celebration of Amy Winehouse's music geht 2022 auf große Tour! Mit dabei ist nicht nur das Vermächtnis der Musikerin, sondern auch ihre originale Band. Nicht lang zögern und ab zum Ticketkauf!

Forever Amy feiert die Musik von Amy Winehouse mit Menschen, die sie am besten kannten und ihr halfen, den zeitlosen Sound zu kreieren. Deshalb ist die Formation durch ganz Europa unterwegs, um das Werk von Amy Winehouse authentisch weiterleben zu lassen. 

Forever Amy – A Celebration of Amy Winehouse's music ist eine Hommage an die britische Pop-Musikerin. Die Band formt sich aus Dale Davis, Hawie Gondwe, Nathan Allen, Jim Hunt und Ben Edwards. Sie alle sind talentierte Musiker und begleiteten Amy Winehouse bei ihren Auftritten und im Studio. An Amys Stelle tritt die außergewöhnliche Jazz- und Soulsängerin Alba Plano. Sie verzaubert das Publikum weltweit mit ihrer Präsenz und ihrem Gesang und schafft es, Amy Winehouse zurück auf die Bühne zu holen.

Lassen Sie sich eines dieser Konzerte nicht entgehen und erleben Sie Forever Amy live in Deutschland. Jetzt Tickets sichern!
Source: Reservix