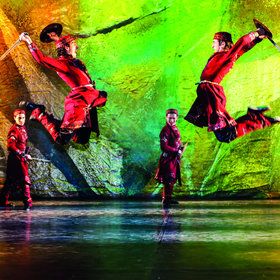 The Georgian Dance Company
Fire of Georgia, das ist die tänzerische Faszination aus dem Kaukasus. Die orientalische Tanzveranstaltung von der Küste des Schwarzen Meeres schreibt mit traditionellen, feurigen Tanzszenen und modernen Interpretationen ihre Erfolgsgeschichte.

Die Tanzsensation aus Georgien ist weltbekannt für ihre Dolch- und Säbeltänze. 30 Tänzerinnen und Tänzer treffen in einer Höchstleistung, der meisterlichen Präzision auf mystische Klänge und kaukasische Rhythmen. In mal zarten Bewegungen, jedoch zumeist atemberaubenden Tempo performen die Künstler ihre mitreißenden Choreographien. Die Bewegungen und akrobatischen Kunststücke stammen aus der georgischen Folklore und wurden schauspielerisch aufwendig inszeniert. Phantasievolle Dekorationen und farbenprächtige Kostüme runden die tänzerische Darbietung ab.

Freuen Sie sich auf eine Reise zu den Ursprüngen des georgischen Volkes und eine Abenteuergeschichte über den georgischen Kulturgeist.
Source: Reservix