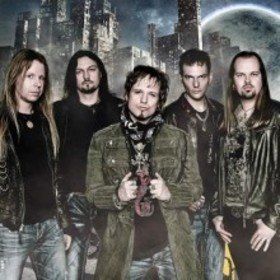 Mit ihren harten, aber eingängigen Melodien und Tobias Sammets hoher Stimme wurde Edguy zweifelsfrei zu einer der international erfolgreichsten Metalbands Deutschlands. Seit ihrer Gründung 1992 verkaufte die Band aus Fulda mittlerweile über zwei Millionen Tonträger und bestritt laut und entschlossen zahlreiche ausverkaufte Live-Konzerte und Tourneen weltweit.

Mit ihrer kraftvollen Musik ziehen die Metal-Herren von Konzerthalle zu Konzerthalle und wurden so bald in der Szene von Iron Maiden, Gamma Ray und den Helloweens bekannt. Seit Anfang der Neunziger machen sie ihr ganz eigenes Ding: Praktisch unter Selbstmanagement gewinnen Edguy mit verzerrten Gitarren, hämmernden Drums und viel Eigenwille immer mehr Fans auf dem Globus und überzeugen auch heute noch mit ihrem Power Metal auf Alben wie "Space Police – Defenders of the Crown" oder "Tinnitus Sanctus". Und mit "Rocket Ride" zeigten die Jungs, dass sie durchaus auch mal aus den Konventionen ausbrechen können.

Die Vielfalt ist auch in ihren Texte wiederzufinden. Häufig setzen sich Edguy in metaphorischer Art und Weise mit sozialen Themen auseinander, doch der Spaß am Heavy Metal geht dabei noch lange nicht verloren – was auf den Live-Konzerten besonders gut zu spüren ist. Ganz oben in der Gunst der Metal-Fraktion angekommen, steht Edguy da, wo so manche Band gerne stehen würde.
Source: Reservix