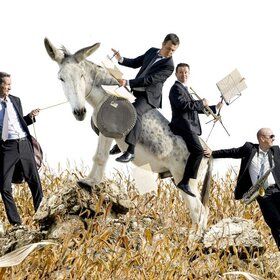 Sie nennen sich "Echoes of Swing", doch als reines Echo kann man dieses fantastische Quartett nun wirklich nicht bezeichnen! Mit der Zeit haben die vier Musiker neben vielen Coverversionen auch ihren völlig eigenen Stil gefunden und so zeichnet sich das Ensemble durch eine unglaubliche Kreativität aus, die sich in verblüffenden Arrangements, virtuosen Solobeiträgen und ausdrucksstarken Eigenkompositionen widerspiegelt.

Mit zwei Bläsern, einem Schlagzeug und einem Klavier spielen "Echoes of Swing" in einer einzigartigen Formation, die ihnen große Flexibilität und viel Freiraum für ein harmonisches Zusammenspiel erlaubt. Die Abwesenheit eines der klassischen Swing Instrumente, dem Bass, wird mehr als nur ausgeglichen von der Bassdrum des Schlagzeugers Mewes, sowie den Basstönen des Pianisten Ihotzky. Abgerundet wird dieser grandiose Sound des frühen 20. Jahrhunderts von dem Saxophonisten Hopkins und seinem Kollegen Dawson, der neben seiner Trompete auch seine fantastische Stimme mit in die Band einbringt.

"Echoes of Swing" begeistern nicht nur mit einem grandiosen Repertoire an zeitgemäß aufbereiteten Klassikern, sondern bieten ihrem Publikum auch eine humorvolle, fast komödiantische Bühnenpräsentation. Überzeugen Sie sich selbst und erleben Sie dieses gefeierte Ensemble live auf ihrer Tour!
Source: Reservix