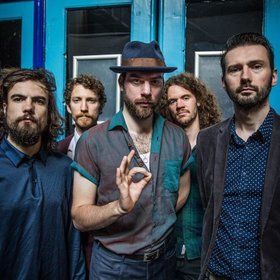 De Staat erspielen sich mit griffigen Hooklines und markantem Auftreten den Weg an die Spitze des Avantgarde Rock. Inspiriert von der Attitüde eines Nick Cave, Tom Waits oder auch der Queens Of The Stone Age haben sie ihren ganz eigenen Sound - von Kritikern und Fans euphorisch gefeiert.

Einen ausgezeichneten Ruf hat sich das Quintett um Sänger und Gitarrist Torre Florim längst gemacht. Die ganz großen Bühnen stehen bereit, alle großen Festivals wurden bereits abgegrast und auch einige Konzerte in Amerika haben sie ihrem internationalen Ruhm zu verdanken. Das dritte Album wurde gemischt von Vance Powell in Nashville, seines Zeichens rechte Hand von Jack White: Es ist dichter im Sound, doch bleiben De Staat ihrer Marke der eingängigen, aber facettenreichen Rockmusik treu. Grund genug für einen Edison Award, der "I_CON" als herausragendes Album auszeichnet.

Auch live geben die Kerle aus Nijmegen in den Niederlanden ihr Bestes, dass es nur so scheppert. Immer mittendrin: Torre Florim als Indie-Crooner der Extraklasse. Mit rauer Stimme und fesselnder Präsenz macht er die Show zu einem überwältigenden Erlebnis.
Source: Reservix