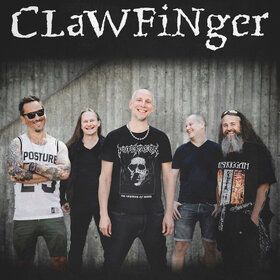 Als Pionier des Crossover-Genres spielte sich Clawfinger zu internationalem Erfolg. Klinische Gitarren und stampfende Beats treiben wilde, politische und gesellschaftskritische Songs voran. Durch ihre harten Sounds und die speziellen Inhalte wurde sie lange Zeit als europäische Antwort auf Rage Against the Machine gehandelt.

Die Band aus Schweden und Norwegen brachte den Crossover-Trend in Europa mit auf den Weg. Damit gehörten Zak Tell und Co. zur ersten Generation und konnten mit ihren sozialkritischen Texten viele Erfolge feiern. Gleich auf ihrem ersten Album "Deaf Dumb Blind" sorgten sie für Aufregung und Diskussionen. Der anti-rassistische Song "Nigger" beispielsweise wurde wegen seines Titels schnell vorverurteilt. Doch nichtsdestotrotz gelang Clawfinger der Durchbruch. Es folgten Alben wie "Hate Yourself with Style" und "Life Will Kill You", auf denen die Musiker volle Power geben. Mittlerweile gehören sie zu den Legenden der Crossover-Musik und können auf Konzerte auf den größten Festivals Europas zurückblicken.

Obwohl sie sich 2013 offiziell auflösten, spielen die Musiker von Clawfinger noch immer gemeinsam Konzerte und bringen hin und wieder neue Songs raus. So hast auch du die Möglichkeit, diese erfahrene Band noch einmal live zu erleben und die volle Power von Clawfinger zu spüren. Sichere dir jetzt deine Tickets und sei live mit dabei!
Source: Reservix