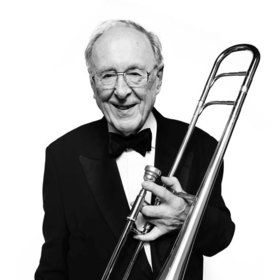 Chris Barber, britischer Posaunist, Kontrabassist und Sänger ist ein Jazz-Musiker, dem kaum einer das Wasser reichen kann. Mancher bezeichnet ihn sogar als erfolgreichsten Jazz-Musiker der Geschichte. Und das nicht zu Unrecht! Seit über 60 Jahren ist er Namensgeber und Leiter von The Big Chris Barber Band, mit der er schon seit Jahrzehnten als eine der bekanntesten und beliebtesten Dixieland-Gruppen mit New Orleanscher Jazzprägung vor ausverkauften Hallen spielt. Sein Markenzeichen: er beendet jedes seiner Konzerte mit seinem Lieblings-Song "Ice Cream".

Seine Verdienste und seinen Erfolg hat sich Chris Barber hart erarbeitet. Er startete mit verschiedenen Bandprojekten, bevor er The Big Chris Barber Band gründete, die seitdem mit wechselnder Besetzung (die Musikerfamilie listet über 50 ehemalige Mitglieder!) grandiosen Jazz auf die Bühnen weltweit bringt. Mittlerweile kommt es nicht selten vor, dass das Britische Königshaus anruft und nachfragt, ob die Band für die Queen und ein ausgewähltes Publikum spielen könnte.

"The Most Excellent Order of the British Empire (OBE)": Dass sich Chris Barber diesen Ehrenorden verdient hat, steht außer Frage! Er ist wahrlich eine Koryphäe des britischen Jazz, ein Wunder der Beständigkeit und Inspiration und erfindet sich und seine Musik immer wieder neu. Seien Sie dabei, wenn dieser Ausnahme-Musiker und seine Band bei einem ihrer Live-Konzerte nicht nur ihr musikalisches Talent, sondern auch ihre Spielfreude unter Beweis stellen!
Source: Reservix