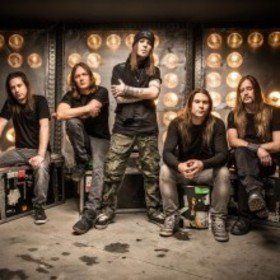 Sie kommen aus dem Land, das sich mit erfolgreichen Metal-Musik-Exporten bereits einen Namen gemacht hat: Finnland. Die Band Children of Bodom hat mit den düsteren Lyrics ihrer Alben, die oft von wenig angesprochenen Themen wie Tod, Gewalt und Aggression handeln, scheinbar sofort einen Nerv getroffen, denn ihre Erfolgsgeschichte gilt in der skandinavischen Metalwelt bisher als einzigartig. Jetzt sind die fünf auf Tour und begeistern mit ihren Konzerten die deutschen Metal-Fans.

Schon in Teenager-Jahren fanden sich die fünf Jungs als Band zusammen und erreichten mit ihrem ersten Album "Something Wild" bald internationale Bekanntheit. Trotz Umbenennung in den derzeitigen Bandnamen und mehrerer Wechsel der Mitglieder, kann die Gruppe auf eine mehr als 20-jährige Erfolgsgeschichte zurückblicken.

Mit ihren Alben schafft es die Band immer wieder, die Fans zu begeistern. Children of Bodom wurde inzwischen mit mehr als 15 goldenen und 2 Platin-Schallplatten ausgezeichnet. Auf ihrem Erfolg ruhen sich die fünf Finnen jedoch nicht aus, sondern legen sich bei jedem Projekt erneut ins Zeug, um immer wieder frischen Wind aufkommen zu lassen.
Source: Reservix