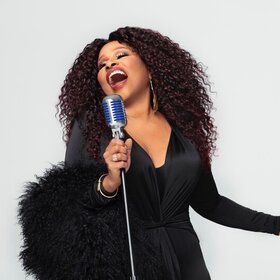 2020 ist Chaka Khan wieder auf Tour und beehrt auch Deutschland mit ihrer Musik. Das Publikum darf sich dabei nicht nur auf die größten Hits ihrer Karriere, sondern ebenfalls auf ganz neue Songs von ihrem Anfang 2019 erschienen Album "Hello Happiness" freuen. Der Song "Like Sugar" von eben diesem Langspieler zählt aber schon wohl jetzt zu ihren Hits.

Chaka Khan besticht seit Jahrzehnten mit ihrer beeindruckenden Stimme. Die Soul- und Pop-Legende arbeitet häufig mit anderen Größen der Musikszene zusammen und produzierte Hits, die auch heute nichts an von ihrer Anziehungskraft verloren haben.

Bereits in den 1970er-Jahren begann Chaka Khan ihre musikalische Karriere und produzierte bald darauf erste Hits mit ihrer damaligen Funkband Rufus. 1978 startete Khan parallel dazu ihre Solokarriere und gewann 1983 und 1984 ihre ersten beiden Grammys. Die Anzahl dieser Auszeichnungen ist bis heute auf stolze zehn angewachsen und unterstreicht gemeinsam mit Hits wie "I Feel For You" und "I´ll Be Good To You" ihr unglaubliches Können. Bei ihren Songs zeigt sich aber ebenso die Bandbreite ihrer Musik, die gerne Elemente verschiedener Stilrichtungen vereint und häufig auf Alben mit Gold- oder Platin-Status zu finden sind.

Chaka Khan und ihre Musik live auf der Bühne zu erleben, sorgt für Momente, die man so schnell nicht vergisst. Sichern Sie sich jetzt Ihre Tickets!
Source: Reservix