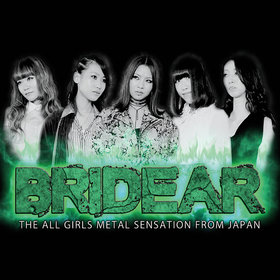 Bridear ist der Metal-Exportschlager aus Fernost! Mit einem ordentlichen Mix aus Metalcore, Power Metal und Hardrock sorgen die fünf Japanerinnen für einprägsame Melodien, fetzige Gitarrenriffs und donnernde Drumeinlagen. Obwohl ihre Songs wie "Light In The Dark", "Thread Of The Light", "Ignite" oder "Pray" regelrecht alles um sich herum zerschmettern, handeln sie unter anderem von feinfühligen Themen, zwischenmenschlichen Konflikten und romantischen Beziehungen.

Bridear wurde 2011 in Fukuoka gegründet, als Sängerin Kimi und Bassistin Haru Mitglieder für eine Band suchten. Mit "Overturn The Doom" erschien zwei Jahre später das kleine Debütalbum und richtete erste Aufmerksamkeit auf das Metal-Quintett. Nach und nach erspielte sich die Truppe einen Namen in der lokalen Szene und übernahm schließlich ganz Japan. 2016 folgte die große Platte "Baryte" und Bridear debütierte mit ihrer Tour in Europa. "Rise" und "Helix" reihen sich im weiteren Verlauf gekonnt in die Diskografie ein, während die Mädels weiterhin erfolgreich ihre Fühler nach Übersee ausstreckten. Das Ergebnis ist eine weltweit stetig anwachsende Fansgemeinde.

Bridear haut mit ihrem Sound und den energetischen Auftritten regelmäßig ihr Publikum aus den Socken. Lasst euch die Metal-Sensation aus Japan nicht entgehen und erlebt eine Live-Show, die es in sich hat!
Source: Reservix