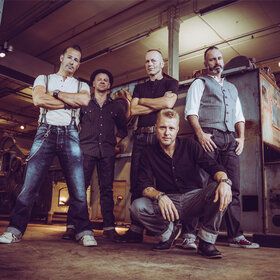 Boppin'B steht für klassischen Rock 'n' Roll aus den 50er Jahren, gepaart mit einem bunten Mix aus Pop, Punk, Ska und Swing. Sie gelten als erste Band aus Deutschland, die moderne Popsongs im Stil des Rock 'n' Roll interpretierten und sorgten so für einen kleinen Rockabilly-Hype, der doch einigen anderen Bands wie The Boss Hoss den Weg bereiteten.

Die selbsternannte "Scheißkapelle" ist schon seit 1985 in der Musiklandschaft unterwegs. Damals noch als Schülerband gegründet, starteten die Aschaffenburger schnell durch und waren wenige Jahre später überregional bekannt. Boppin'B machte sich einen Namen als Live-Band und spielt seit dem Ende der 90er-Jahre auch auf internationalen Bühnen. Doch größere Popularität erlangte die Band, als sie 2005 für das Rockabilly-Projekt Dick Brave & the Backbeats des deutschen Sängers Sasha im Vorprogramm spielten. Danach vertonten sie einige Songs von Sashas im Rockabilly-Stil und stiegen damit in die Charts ein.

Nach all den Jahren sind Boppin'B ihrem Stil immer treu geblieben. Doch die Band beschränkt sich nicht nur auf die Neuvertonung bekannter Popsongs, sondern schreibt natürlich auch ihre eigenen Lieder – und das mit anhaltendem Erfolg. Erleben auch Sie Boppin'B mit ihrem genialen Rock 'n' Roll!
Source: Reservix