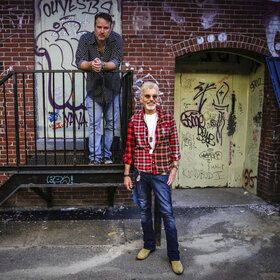 Darauf haben Fans sehnsüchtig gewartet. 2020 ist es soweit, denn Billy Bob Thornton & The Boxmasters sind "Live in concert". Erlebt die Musiker auf der Bühne und lasst euch vom treibenden Rock-Sound der Band begeistern. Jetzt Tickets bei Reservix sichern!

"The Poor House", "Angelina" und "Japanese Girl" sind Songs, die bei keinem Auftritt von Billy Bob Thornton & The Boxmasters fehlen dürfen. Bei diesen Herren trifft Leidenschaft auf pure Spielfreude, die von der ersten Sekunde an mitreißt. 

Das Licht der Rockwelt erblickten The Boxmasters im Jahre 2007, als Schauspieler Billy Bob Thornton und Musiker J.D. Andrew einen Weg suchten, ihrer Liebe für den Sound der 60er Ausdruck zu verleihen. In den USA ging dieser Ansatz bereits nach kurzer Zeit voll auf: Die Fanbase wuchs und wuchs, am musikalischen Ausdruck wurde fleißig gefeilt und Alben wie "The Boxmasters", "Modbilly" und "Somewhere Down The Road" erreichten bald Kultstatus. Auf ihren Erfolgen ruhten sich Billy Bob Thornton & The Boxmasters aber nie aus und legten, nach einer kurzen Tourpause, im Jahr 2015 wieder richtig los. Seitdem sind die Herren nicht mehr aufzuhalten und das wird wohl auch so bleiben. 

Ehrliche Rockmusik, sympathische Herren und eine Stimmung, die intim und losgelöst zugleich ist. Das erwartet Fans auf einem Konzert von Billy Bob Thornton & The Boxmasters. Nicht verpassen!
Source: Reservix