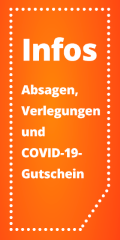 Venue location
Am Stadtgarten
Unfortunately, no other dates are available at the moment.
Am Stadtgarten
Die Betreiber des Restaurants am Stadtgarten sagen in größter Bescheidenheit selbst von sich: "Wir sind the place to be in Singen!" Und damit liegen sie ganz richtig! Neben hervorragender Kulinarik werden hier auch zahlreiche Live-Events geboten.

Seit 2002 versuchen Sabit Dedaj und Xhevat Krasniqi das Angebot stetig zu verfeinern und kulinarisch im neuesten Trend zu sein. Bei der Wahl der Zutaten legen die beiden Gastronomen vor allem Wert auf Qualität und Regionalität. Was die Programmauswahl ihrer Kulturveranstaltungen angeht, sind sie freigiebiger. Ob lokaler Musiker oder Theaterdarbietung, im Restaurant am Stadtgarten ist jedes Event ein Highlight.

Sie finden das Restaurant am Stadtgarten mitten in der Singener Innenstadt. In gerade einmal 10 Gehminuten vom Bahnhof Hohentwiel, erreichen Sie die Venue schnellstens zu Fuß oder mit öffentlichen Verkehrsmitteln. Parkplätze sind in den angrenzenden Seitenstraßen zu finden.