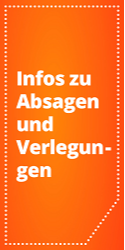 Veranstaltungsort
Heimat Regensburg
Heimat Regensburg
Die Heimat Regensburg, eine Musikbar in der wunderschönen Stadt an der Donau, lebt ganz nach dem Motto "Home is where the heart is". In der gemütlichen Bar, in der man sich mit Freunden trifft, um den stressigen Alltag zu vergessen, steckt viel Leidenschaft und vor allem viel Abwechslung.

Während die Bar Dienstags immer HipHop auflegt, Mittwochs klassischen Rock, Blues und Soul, Donnerstags Indie und das Wochenende dem Elektro widmet, so gehören die Sonntage und Montage ganz der Live-Musik. Regionale und internationale Bands stehen regelmäßig auf der Bühne in der "Heimat" und begeistern ihr Publikum. So ein buntes Programm bekommt man heutzutage nur noch selten zu hören!

Kommt vorbei in die "Heimat" am Römling in der Nähe des Haidplatzes, macht es euch gemütlich mit einem Bierchen oder Cocktail, oder tanzt zu eurer Musik. Hier ist für jeden Geschmack etwas dabei. Fühlt euch wie zu Hause in der "Heimat". Denn, wie bereits gesagt, "home is where the heart is"!