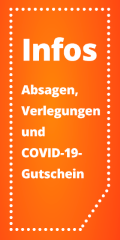 Venue location
Jazz Studio Nürnberg
Unfortunately, no other dates are available at the moment.
Jazz Studio Nürnberg
Im April 1954 zunächst als "Jazz Club Nürnberg" gegründet, hat der Verein nach einem kurzen Gastspiel in der Gaststätte "Augsburger Hof" zum Ende desselben Jahres eigene Clubräume bezogen. Seitdem befindet sich das JazzStudio Nürnberg im Jazzkeller, einem historischen Sandsteingewölbe am Paniersplatz unterhalb der Burg, und gilt als der zweitälteste Jazzclub Deutschlands. Auch heute noch ist das JazzStudio Nürnberg als gemeinnütziger Verein organisiert. Neben Gastspielen im Jazzkeller veranstaltet das JazzStudio auch die beliebte Konzertreihe "The Art of Jazz". Die ausgezeichneten Konzerte nationaler und internationaler Stars sowie junger Nachwuchstalente versprechen Jazz vom Feinsten in all seinen Facetten und Stilen: Vom Blues über Swing bis hin zu Funk und Jazz von heute – die Palette der gebotenen Jazzformen kennt keine Grenzen. Für Jazzfans und Kulturinteressierte ist das JazzStudio Nürnberg eine der top Adressen für hervorragende und facettenreiche Konzerte dieses Genres.