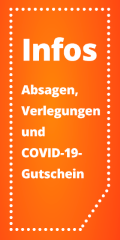 Venue location
Hellraiser Leipzig
Hellraiser Leipzig
Inspiriert von dem weltbekannten Song "Hellraiser" von Motörhead wurde 1992 der gleichnamige Metalclub Hellraiser in Leipzig gegründet, der sich zu einer wahren Größe unter den Locations für Metal-Konzerte und –Festivals entwickelte.

Seit dem Tod von Ian Fraser "Lemmy" Kilmister, Gründer und Frontman der Band Motörhead, wird garantiert jedes Event in dem Metalclub dieser Legende gewidmet sein. Ob im großen oder im kleinen Saal des Hellraisers, hier wird immer gebührend gerockt und der Lautstärkenregler bis zum Maximum aufgedreht. Die beeindruckende Gothic-Kunst an den Wänden – made by Wito Apitzsch, Mitgründer des Clubs – sorgt für die richtige Atmosphäre in den schwarzen Räumen und rundet das Bild perfekt ab.

"I'm living on an endless road, around the world for rock and roll. Sometimes it feels so tough, but I still ain't had enough…" so die Lyrics des berühmten Songs und so auch das Motto des Metalclubs in Leipzig! Genug hatte hier noch lange keiner und die Bühne des Hellraisers wird noch lange die besten Bands der Szene beheimaten. Ready to rock? Sichert euch noch heute eure Tickets!