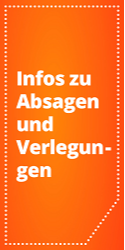 Veranstaltungsort
Stadtmuseum Kaufbeuren
Unfortunately, no other dates are available at the moment.
Stadtmuseum Kaufbeuren
Das Stadtmuseum Kaufbeuren beleuchtet in seiner Dauerausstellung auf 850 m² die Geschichte der freien Reichsstadt Kaufbeuren. Des Weiteren gibt es eine Kruzifixsammlung mit rund 300 Objekten und eine Reihe protestantischer Hinterglasbilder zu bestaunen. Zudem werden berühmte literarische Söhne und Töchter der Stadt auf einem Stockwerk des Museums präsentiert sowie ein Ensemble an Bauernstuben, das seit 1901 im Gebäude im Kaisergäßchen ausgestellt ist.

Das Stadtmuseum befindet sich in Kaufbeurens Altstadt in einem denkmalgeschützten ehemaligen Patrizierhaus aus dem Jahre 1746. Gegründet wurde es 1879 und zählt somit zu den ältesten Museen in Bayerisch-Schwaben. Nach über zehnjähriger Schließung und Sanierung eröffnete das Museum 2013 wieder und ist nun eine besucherorientierte und barrierefreie Einrichtung. Außerdem bietet das Stadtmuseum einen monatlichen Kunst- und Geschichtsplausch, Kinder- und Familienführungen sowie zwei Sonderausstellungen zu kulturhistorischen Themen im Jahr.

Für das neue Konzept nach der Sanierung erhielt das Stadtmuseum Kaufbeuren zahlreiche Auszeichnungen. Neben dem Bayerischen Museumspreis bekam das Museum für das familienfreundliche Angebot vom Verband für kinderreiche Familien das fairfamily Siegel. Zudem war das Museum 2015 für den European Museum of the Year Award nominiert.
Address
Kaisergäßchen 12-14
Germany
Route